FEATURED EVENT Dec 1st: Warehouse Art Rave & Fashion Show
16
Nov
2010
Opening Night of the 6th Annual Sephardic Music Festival!
Interactive art installations | Live art performances | Art gallery | Tagging wall | Fashion Show | Music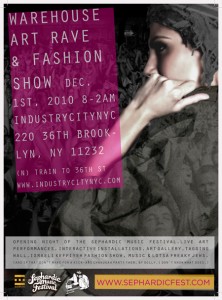 December 1st, 2010
7pm-1am
@IndustryCityNYC in a 20,000 square foot loft on the water!
220 36th St Brooklyn, NY (N to 36th St)
Event Site http://bit.ly/artravebk
RSVP on FACEBOOK!
Follow the event happenings on twitter @sudinmag
$10 door | Best Deal! $8 advance (buy ticket here! http://bit.ly/bcxnL9) | $8 student
The Sixth Annual Sephardic Music Festival will be lighting up the eight nights of Hanukkah in venues around New York from December 1st through 8th. The kick-off event of the festival is an Art Rave and Fashion Show at 8pm on Wednesday, December 1st (the first night of Hanukkah) at 220 36th street in a 20,000 square foot loft with a view of the East River in Brooklyn's Industry City.
The evening promises to be an art-inspired "rave" complete with live performances by a wide range of performance and graffiti artists, runway with fashion show, painting gallery, and tagging wall.
Performing graffiti artists include Argentine-born artist Ariana Nehmad, Brooklyn's own Lenore Mizrachi, CRAM CONCEPTS, and sculptural installations by Andrew Kuszynski. A gallery with works for sale will be featuring a selection of New York artists including Yona Verwer and the painter Aliza Stone.
A tagging wall will be available for participants to come and make their mark with interactive elements for artists and non-artists alike to express themselves and add to the diversity of artwork.
Highlights of the evening will include live music by some of the city's hottest underground world music DJ's with special guest performances by Y-Love, DeScribe, and Diwon. Diwon's beats are strongly influenced by his Yemenite roots, blended with electro hip-hop and cinematic psychadelia. Diwon has earned critical acclaim from URB Magazine, The Village Voice, and Billboard Israel.
The event will feature the first ever fashion show that reexamine contemporary Jewish identity through the media of fashion. Live models will present the latest apparel by fashion label Dveykus, whose controversial Israeli Keffiyeh scarf has received attention from numerous publications, including the NY Times, as well as Grammy Nominated artist, Matisyahu. Additional design labels being featured include Rozenblyum Couture, and designs by Janique.
According to Sephardic Music Festival founder, Erez Safar, "We envision a 'rave' event that combines fashion, art, music, and performance in a way that breaks down the boundary between the artwork and the audience. We hope to create an environment in which the viewer is—in a very real sense—part of the artistic experience." A huge tagging wall / art mural will provide visitors the opportunity to make their mark and add their unique creative stamp to the evening's events. "We want to cultivate a hands-on, interactive atmosphere that unites artists and attendees in the creative process," Diwon added.
The Warehouse Art Rave and Fashion Show is a collaboration between Shemspeed.com, designer Baruch Chertok, founder of Dveykus, and artist Elke Reva Sudin, founder of SUDINmagazine and Art Director of Presentense Magazine with sponsorship from Industry City (industrycitynyc.com) The event begins at 7pm at Industry City, located at 220 36th Brooklyn, NY 11232.
Sponsors: Be'Chol Lashon | Shemspeed.com | Dveykus.com | SUDINmagazine.com | industrycityny.com | Hillels of Baruch, Brooklyn, CSI, & Hunter | PunkJews.com
For all press- related inquiries, please contact Erez Safar, Festival Director at [email protected]
www.sephardicfest.com