Call for Entries – Ketuv
16
Feb
2011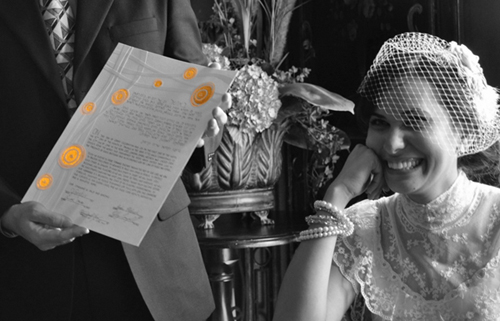 Ketuv is an organization established by artists Arielle Angel and Maya Joseph-Goteiner in an effort to re-imagine the traditional ketubah (a Jewish marriage contract, signed at the wedding to unite a couple by law) and establish a new market for contemporary artists to create revenue. Ketuv is equally committed to providing couples with original fine-art ketubahs via editions and custom made works, as to promoting the work of emerging and established artists.
Examples of decorative ketubahs go back hundreds of years, the text surrounded by intricate designs in ink and gold leaf. Unfortunately, nowadays, there are just too many one dimensional, dime-a-dozen printed ketubahs out there. Couples with a discerning eye or an interest in the arts can have a hard time finding something that reflects their visual aesthetic.
Eligibility:
We are looking to expand our roster of artists for both custom ketubahs and editions. Fine artists working in any medium are welcome to apply. We are looking for innovative artists, with dynamic art careers outside of the commercial and the Judaica spheres. Artists do not need to be Jewish to apply.
Compensation:
Artists can earn between $300-$7,500 depending on whether they sell one editioned print, all twenty-five in the edition, or a custom work. Ketuv is responsible for the printing, text, marketing and sales of all ketubahs.
Deadline:
The call is ongoing.
Process:
Ketuv encourages couples to consider their ketubah the first piece in their art collection together. Interested artists should submit a short bio or CV along with a website. If you do not have a website please send 10 examples of your work @72dpi and 800pixels (longest dimension). Once your submit your website/portfolio, if we see potential in an artists' aesthetic, we invite him/her to submit a ketubah design. We will guide each artist as he/she begins the process of designing a submission. Ketubah designs will be reviewed within three weeks of submission. Ketuv will issue a legal agreement with accepted artists outlining the rights of both parties.
History:
Arielle and Maya met while working at a non-profit arts organization in midtown Manhattan, and while they are both artists, the context in which they met was as art administrators.
In 2009, artist Arielle Angel decorated a ketubah for a family friend. As she watched the bride and groom sign the ketubah before their wedding, she was inspired to create more. It was the first time she saw her artwork used in such a meaningful way.
A few months later, she received another ketubah request, and then another, and decided it might be time to take wedding artwork more seriously.
Around the same time, Maya was focusing on helping working artists effectively market their talents, and recognized an opportunity in Arielle's budding ketubah business to create a collective of artists who would make ketubot.
Together, they formed Ketuv.
Contact:
Arielle Angel and Maya Joseph-Goteiner