Call for Entries: ART HOUSE —London
15
Aug
2011
Art House: The Community Art Exhibition
Submission Dates: August 30th  – September 4th, 2011
Exhibition Dates: September 11 – October 11, 2011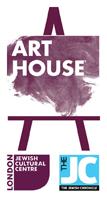 The London Jewish Cultural Centre and Jewish Chronicle are delighted to launch Art House, a fantastic new showcase for artists in the community.
A diverse team of curators, including a professional artist, an expert in fine art, a renowned collector and the JC's own art critic, will be selecting works for a major community exhibition at the London Jewish Cultural Centre's Ivy House this autumn.
• Paintings, drawings, prints and photographs will be considered.
• Doors will open for artists' submissions on 30th & 31st August & 1st, 2nd & 4th September.
• Works must arrive ready to hang and no larger than 1.5m x 1m.
• Entry fee: £10 per work to £25 for a maximum of three
• Artists must be 16 or older.
• Prizes will be awarded
• Exhibitors may sell their work.
The exhibition will be open from September 11th until October 11th.
For full details, terms and conditions, a downloadable entry form and answers to all your questions please download the three documents below.
Click here to download the FAQ page
Click here to download the Entry Form
Click here to download the artwork submission form