The Jonah Drawings
5
Nov
2012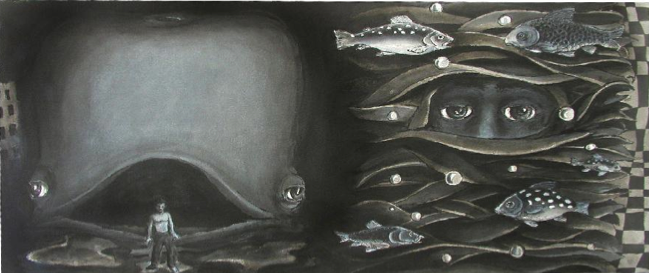 UJA-Federation of New York's Building Arts Committee
Invites you to The Jonah Drawings by David Wander
A special gallery tour & talk
Thursday, November 15, 2012 5:30-7:00pm
UJA-Federation of New York Seventh-Floor Gallery
130 East 59th Street New York City
R.S.V.P. by Monday, November 5, 2012,
to Lillian Rodriguez at 1.212.836.1793 or
[email protected].
Inspired by the Book of Jonah, artist David Wander's fresco-style works on paper pay homage to the familiar biblical story while adding the artist's personal interpretations, lending a contemporary perspective to this ancient story. With its theme of forgiveness and repentance, the Book of Jonah is traditionally read on the high holiday of Yom Kippur. Executed in a horizontal accordion-like fashion that recalls the scroll tradition of long ago, the exhibit consists of 13 panels that together form a 50-foot long drawing, depicting the complete story of Jonah, which is to be viewed from right-to-left as if it's Hebrew text.