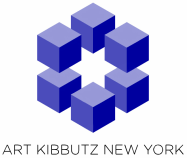 Art Kibbutz is delighted to announce the launch of its first-ever spring residency program at Camp Eden Village – a spectacular 248-acre venue bordered on three sides by the wooded hills of Clarence Fahnestock State Park in the Hudson Valley, 50 miles north of New York City. The pilot residency provides participants with the power to shape an innovative new program, the only one of its kind to explore creative art, Jewish teachings and tradition and environmental awareness. This project marks a significant step that Art Kibbutz is taking towards the creation of an international Jewish artist colony at a permanent location.
As host, Art Kibbutz will provide artists with a peaceful, supportive, Jewish environment — including living and studio space — in a magnificent natural setting only 45 minutes from New York City in Putnam Valley.
The residency – scheduled to take place from May 1-22 2013 — will be specifically dedicated towards nurturing an artistic response to current issues pertaining to the natural environment, farming and sustainability through a Jewish lens. In addition to a bedroom and gourmet kosher vegan meals, each artist will be provided with studio or work space. A central focus of the residency will be to encourage the artists to work outdoors, creating land art.
JEWISH ENVIRONMENTAL/LAND ART
The purpose of the residency program is to give collaborative and creative responses to climate change, food security, and sustainable development. This revolutionary, unprecedented project will be a living model of a thriving, inspired, sustainable Jewish artistic community, grounded in social responsibility. Participants will analyze binary systems of opposition that articulate differences between art/life, nature/culture, and public/private. They will challenge boundaries that separate the maintenance of daily life from the role of an artist in society – stimulating positive community involvement toward ecological sustainability through learning sessions, open discussions, and programs. We hope this experience will transform the artists by deepening their sense of personal purpose, contribution and Jewish identity, the artworks created will deepen the Jewish community's commitment to healing the planet.
PROGRAM
The residency program will balance concentrated, productive work time with the rich stimulation of cultural exchange. During the day, artists will work free of the constraints of the art world and external stress. Opportunities will be offered throughout the residency for Jewish learning and communal events, including Shabbat experiences; presentation opportunities; events; day trips & hikes; networking with prominent Jewish scholars, community leaders, curators and artists, including Andras Borocz (Hungary), Nikki Green (Australia), Professors Marc Michael Epstein (Vassar) and Jonathan Schorsch (Columbia). Artists will have the opportunity to present their work and network with the New York arts world and Jewish community.
During the festival of Shavuot, which takes place May 15-17 this year, a special holiday retreat will take place at Camp Eden Village. The artists are welcome to participate fully. Led by renowned Jewish spiritual leaders, there will be a special emphasis on art and culture in the holiday celebration and observance. Furthermore, participants in the Shavuot retreat will be able to interface with the artists-in-residence, attending master classes and collaborating in projects.
WHO ARE WE LOOKING FOR?
Like most artist colonies, Art Kibbutz seeks artists who are working professionally. Admission will be based on artistic excellence, quality of project proposal and interest in being part of a creative, intentional, if temporary, Jewish community. This retreat will host artists representing a wide diversity of artistic styles, a multi-generational, multi-disciplinary group of artists from the US as well as abroad. Our understanding of the concept of participants' relationship with Judaism is based more on affiliation and interest than ethno-national background. We aim to work with artists who want to make "Jewish art" and "Jewish history" their own, to learn and teach the world. Art Kibbutz is unaffiliated with any Jewish movements, organizations or political sensibilities – the religious freedom of the artists will be protected throughout the program.
ELIGIBILITY
This residency is open to creative professionals from many disciplines including but not limited to: Music, Photography/Video, Painting, Sculpture, Installation, Mixed Media, Drawing, Watercolor, Performing Arts, Dance, Poetry, Fiction Writing, Non-fiction, and Film. Artists should be ready to engage with a related topic and the community.
CALENDAR
Come to 1, 2, 3 or all sessions.
Session 1 May 1 – 7 $700
Session 2 May 7-14 $700
Session 3 May 14-16 Shavuot retreat $250
Session 4 May 16 – 22 $700
Session 1-4 May 1 – 22 $1800
The residency fees apply unless the artist or Art Kibbutz is able to secure a grant to pay for a portion or all of the residency costs. The residency fee covers all utilities, rent for the living quarters and studio as well as food.
Visiting artists are encouraged to stay the duration of their residency, attend and lead community programs in the evenings. Residents are responsible for arranging their own visas, transportation, valid international health insurance (that extends from the start to the end of their stay) and art supplies.
NOTIFICATION & DEADLINES
Submission Deadline: March 22. Acceptance notification will be on a first-come, first-serve basis.
Apply now!
Download the application form.
RESIDENCY ACCOMMODATIONS
Prices include private single room, studio, meals and programs. Camp Eden Village site includes a pool, sports fields and courts, theater, dining hall, a farm and gardens, hiking trails, cob oven, a 2.5-acre farm, multiple gardens, orchard, low ropes course, herbology center, science center, goat pen, sweat lodge woods, and plenty of space to create indoor and outdoor installations. All Eden Village's buildings and residences are equipped with electricity, hot & cold water, and plumbing. Our 8-acre lake, safely contained by fence and natural barriers, is equipped with boathouse, docks, canoes, rowboats, kayaks, and sailboats. A connected stream runs pristinely through the premises. The camp is surrounded by hiking trails, which connect with the famed Appalachian Trail.
SCHOLARSHIPS
Scholarships are available based on need. Art Kibbutz will also work with accepted artists to find funding for their other expenses; provide letters of invitation and prepare individualized budgets. Artists are expected to participate in events that foster relationships with the international Jewish community. Funders will support individual artist residents (or groups) with whom they will create a personal and work-relationship. Artists could serve as residents the week after the residency giving lectures, speeches, exhibiting their work, etc.
CAMP EDEN VILLAGE (www.edenvillagecamp.org)
Eden Village's beautiful 248-acre camp is bordered on three sides by the wooded hills of Clarence Fahnestock State Park in the Hudson Valley. 50 miles north of New York City, and six miles from Cold Spring, NY, which has a MetroNorth train station. Eden Village's core values of social and environmental responsibility inform every decision they make.Our beautiful 248-acre camp is bordered on three sides by the wooded hills of Clarence Fahnestock State Park in the Hudson Valley. 50 miles north of New York City, and six miles from Cold Spring, NY, which has a MetroNorth train station. Our core values of social and environmental responsibility inform every decision we make at Eden Village.
ART KIBBUTZ (www.artkibbutz.org)
There are 1000+ artist colonies in the world, but none of them are Jewish. Art Kibbutz, International Jewish Artist Colony, will create a network, a community and a hub for outstanding international Jewish artists yearly. By providing a space and time for the artist to work, stay, network and learn together for an extended period of time we hope to give refreshing Jewish responses to important questions, create a community of like-minded artists, support residents' creative process, connect them to their Jewish heritage, help them make it personal, and teach it to the world. Art Kibbutz was founded by Patricia Eszter Margit in 2010. The organization is now in its pilot phase and supported by an outstanding Advisory Board that consists of leaders of the major Jewish art and communal organizations such as Foundation for Jewish Culture, Memorial Foundation for Jewish Culture, Jewish Art Salon, Association for Jewish Theatre, JCRC-NY, UJA.
MORE INFORMATION
www.artkibbutz.org
Patricia Eszter Margit
(1) 347.479.8274
[email protected]