By Saul Sudin
Rama Burshtein's Fill The Void (Lemale et ha'halal) is the second film in as many years to emerge from Israel with not only a strong international presence, but a unique perspective on religious Judaism. Just as Footnote before it, this was nominated for Best Foreign Language Film at the Academy Awards after a run of significant festival appearances (including winning Best Actress at the 2012 Venice Film Festival). The film represents the crowning jewel of an emerging religious women's cinema scene, which usually sticks to exclusively female audiences. Perhaps as the barriers on cinema in the Orthodox world evolve, the world at large will take notice and an audience for quality work will be there to support it- male or female.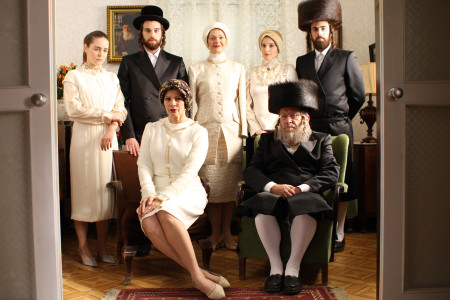 Photo by Karin Bar, Courtesy of Sony Pictures Classics
Fill The Void tells the story of a Hassidic family living in Tel Aviv through the eyes of eighteen-year-old Shira (Hadas Yaron), just entering the age to be married, and her mother Rivka (Irit Sheleg), who places family above all else. We are placed inside this complex community without an introduction to their customs, and the film leaves it up to the audience to catch up. But the universality of nervous love through family trials and tribulations should ring true for anyone who sees the film. Only the rules in this particular culture- the modest separation of men and women at virtually any age and the arrangements surrounding a possible shidduch (a sort of blind date set up by a community matchmaker)- make it all the more intriguing.
If one was to peruse the aisle of Netflix's "romance" section, you would quickly notice how tales of unrequited love, star-crossed lovers as it were, dominate the genre. And yet here, that is pushed aside (though shades of Jane Austin persist) in favor of the intimacy with which the film portrays existing relationships, especially that of a husband and wife, which is sadly seldom seen on film. I'm not referring to sex, but to the true inner workings of a loving relationship. When Yochay (Yiftach Klein), a little drunk on the holiday of Purim, tells his pregnant wife how beautiful she is and how he regrets not telling her more often, there is truth permeating through the screen. This is a benchmark the film sets early on, and it is with this in mind that the pursuit of such a love becomes the goal of our protagonist Shira. But the closeness of man and wife, while central to the plot, is not the only form it takes. We see it in everything from struggling family men coming to Shira's father Aharon for charitable gifts of money, to the community Rabbi taking time away from his busy schedule to show an elderly woman how his stove works.
Photo by Karin Bar, Courtesy of Sony Pictures Classics
There is a raw emotion that propels the film, even while the characters are trying so hard to contain it. Many of these moments hit a deep chord and this reviewer cannot recall a time he wept so heavily during a movie. Birth and death happen almost simultaneously at one point, and such close proximity to the bookends of life can be a lot to handle. This is layered on top of the fear and pressure already synonymous with relationships, especially for the young men and women pursuing marriage, here. Confidence can be hard to find, but when it reveals itself that is when you know it will be a good arrangement.
Shira, who inherited an accordion from her grandmother, finds solace in its music. But at times the sensation boils over, such as when she is hired to play accordion for a kindergarten class. What begins as a bouncy, fun song that children are dancing and clapping to soon becomes a sorrowful dirge, and it is one of the few times we truly get inside the very closeted Shira's head. An acapella version of the song "Im Eshkachech" plays at two key moments in the film, which feature three major occurrences in the Jewish life cycle. A wedding, a funeral, and a Bris Milah- ritual circumcision (the overlap of these brought about my favorite and arguably the most meaningful line in the film, "We've got an hour at the grave and then the bris"). This song, an excerpt of Psalm 137, cries out "If I forget you, O Jerusalem, let my right hand wither; Let my tongue stick to my palate if I cease to think of you, if I do not keep Jerusalem in memory even at my happiest hour." The Psalm commemorates the period after the destruction of the First Holy Temple in Jerusalem in 586 BCE by the Babylonian ruler Nebuchadnezzar who had forced the Levites, the musicians of The Temple, to perform for him as they had in temple times. It is a song of simultaneous pain and comfort in true love, and it plays beautifully here. What's also interesting is that while the song calls out for Jerusalem, the story here is playing out in another religious community in Israel, one often overlooked in Tel Aviv. The film's director Rama Burshtein lives in this community and apparently made a conscious decision to avoid the "secular versus religious" politics that occupy so much of Israeli media. Even a scene on a very public street waiting for a bus is carefully crafted to not fetishize any secular individuals, much as the film avoids doing the same to the Hassidic community.
Photo by Karin Bar, Courtesy of Sony Pictures Classics
The images, which were shot on Arri Alexa cameras with short lenses that create a glowing, narrow focus, accentuate this intimacy throughout, especially in the film's climactic moments. At times it is almost a film made up exclusively of close-ups, an aesthetic that works in favor of this small dramatic story. There are few camera movements, and many long takes that feel documentary without being voyeuristic. "The Void" of the title is an emotional one, but there is a visual interpretation going on here through the brilliant camerawork of cinematographer Asaf Sudry that makes it literal. Fill The Void transports viewers to an intimate world that is seldom portrayed in an authentic way, with delicate care and a loving color that is timeless.
Fill The Void opens in New York and Los Angeles on Friday, May 24th and will continue to roll out into more American theaters over the coming weeks and months. For a list of where it may be playing near you, consult this link.
Official Trailer: