Excerped from an essay by Peggy Earle.
As with most boys in observant Jewish households, Howard was sent to Hebrew and Sunday school at the temple, where he was bar mitzvahed and confirmed. But, he says, his religious training never really clicked. For one thing, his instructors "left out all the good stuff" which, for him, meant the mysticism, the miracles, the ideas and images that can spark a youngster's imagination.
Years later, Howard Lerner says, he's been making up for all that. Rather than observing holidays or going to services, Lerner has been creating a series of radiantly eccentric assemblages whose themes originate from the Old Testament and the Kabbalah, tempered by the occasional dash of Rube Goldberg and dollop of whimsy.
What made Lerner's path unusual is that he became, what a friend jokingly calls, a "born-again Jew" via Siddha Yoga. Lerner is a long-time devotee of that spiritual discipline, founded by the Indian Guru Swami Muktananda. After attending a meditation retreat in the Catskills some years ago, Lerner experienced a vision comprised of both Judaic symbols and references to Yoga. The vision sparked within him a dialogue between the two spiritual paths and inspired him to combine them in his artwork.
Look at the roiling 3-dimensional crazy quilt of "Ezekiel's Vision." Supported on four slender legs it looks, at first glance, like an enormous flayed beast that has swallowed a sacrificial altar. For Lerner, the Old Testament description of the exiled prophet Ezekiel's revelation was a "sculptor's dream": a divine chariot with four-faced winged creatures propelled by wheels, each having the visage of an ox, lion, eagle and man. These "hybrid beings" recalled for Lerner imagery observed in ancient Eastern art and religion, uniting that culture and mythology with those of Judaism. In creating this piece, the artist selected and repurposed such unlikely found objects as old record album covers, hamster toys, a flour sifter, lampshades of cloth and glass, starfish, a sea urchin and fireplace bellows. Throughout "Ezekiel's Vision," as in the other Biblically-inspired works in this exhibit, Lerner includes words written in Hebrew calligraphy.
The Hebrew alphabet played a significant role in Lerner's epiphany some 25 years ago. He saw separate Hebrew letters floating inside the dome of a medieval synagogue and felt each individual character enter his heart. The letters, which Lerner interpreted as "divine emanations from God," led him further on his spiritual path, connecting aspects of Judaism with Kundalini Yoga. For example, the Kabbalistic practice of gerushin, in which a Biblical verse is repeated over and over in order to attain its meaning recalls the use of a Sanskrit mantra, a phrase or word repeated during Yoga meditation.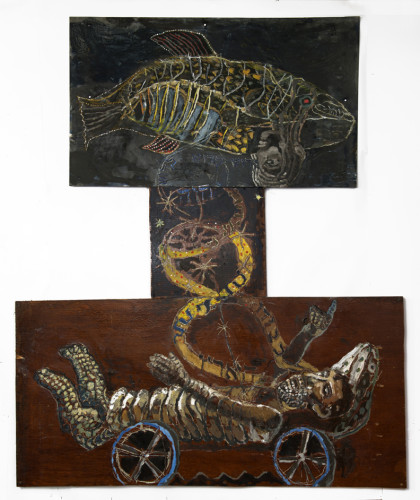 For "Noah's Ark" Lerner created a fantastical ship of wonders. The imposing vessel, more than five feet high and almost 10 feet wide, has a hull reminiscent of Babylonian basket-shaped riverboats made from bound reeds. For his assemblage, Lerner combined two old straw baskets for the base of the ark; its sides come from an ornamental pressed-tin ceiling and its stern is a gracefully curved autoharp. A wooden print drawer's compartments contain a variation on a cabinet of curiosities, here holding shells and stones with images of animals painted or glued onto them. The figure of Noah is seen releasing a dove from a cage that, in a previous life, was an antique mousetrap. Lerner surely recognized a kindred spirit in his subject when he called Noah "the first collector."
Some of the pleasure to be had with Lerner's assemblages comes on close inspection, identifying the unlikely, inventive and bold uses of found objects, or those things he has carved, cut or glued together from everyday materials.
"Kundashekinasherah," like its 3-part name, seamlessly blends the divine feminine aspects of Yoga (Siddha/Kundalini Shakti), Judaic (Shekinah) and Ancient Near Eastern (Asherah) religions. Some of the items in this piece include a rolling pin inscribed with both the Sanskrit symbol for Om, and the name of God in Hebrew. The headdress is decorated with acorns, segments of rubber hose, conch shells and ornate antique bellows. A tin herring box has its apt brand name, "Lord's," printed on it and is attached to the goddess' forehead, symbolic of both the Guru's chakra in Yoga and the tefillin worn in prayer by Orthodox Jews. The figure's breasts are made from croquet balls and acorn caps; her arms were bisque glove molds. A rug beater, rusty calipers and a snowshoe form part of the goddess' body, and she is perched atop the Ark of the Covenant, actually an antique doll's wardrobe chest flanked by winged wooden shoe lasts.
Other works on display represent a plunge from the heavens down to the deep dark seas. Originally elements in an enormous mechanical conglomeration entitled "Carousel of Neptune's Palace," for which Lerner combined light, music and movement, the pieces now stand alone as self-contained suspended sculptures. Recalling Pablo Picasso's "Bull's Head," for which he attached a bicycle seat to its handlebars, Lerner gives us, for example, a fish whose outline is a wooden snowshoe (its mate forms the lower half of the goddess), its fins are dinner forks and its mouth and gills, a pair of snips.
However light-hearted these aquatic animals appear at first glance, Lerner's relationship with the sea is not a particularly benign one. He associates it with the childhood asthma he suffered from and views the ocean as a place where one might drown or be attacked by fearsome predators. Thus, the materials he used to make these pieces tend to be inherently dangerous, having rusty or sharp edges. The other creatures in the group – a lobster, crab and octopus – look as though they are threatening, or being hunted by, a knife-wielding scuba diver whose wooden leg hints at the unfortunate outcome of a previous violent underwater encounter.
When asked about artists who have informed his 3-dimensional work, Lerner mentions Picasso, but also cites visionary sculptors such as James Hampton, whose "Throne of the Third Heaven of the Nations Millennium General Assembly," a glistening installation made from ordinary materials covered in gold and silver foil, is on view at the Smithsonian. Lerner greatly admires Simon Rodia's life work, his monumental "Watts Tower," constructed from concrete, shells, and castoff glass and pottery. And of course, there are the dreamily mysterious box-enclosed environments of Joseph Cornell, to whom almost every found-object assemblage artist owes a distinct debt.
Lerner's mature creative path began with painting. He blossomed under the tutelage of Philip Guston at Boston University's fine arts graduate program. But Lerner eventually worried that his paintings too closely resembled those of his famous mentor. His transition into an assemblage artist happened serendipitously, sparked by a comment from Guston himself.
"I remember him coming into my studio," said Lerner, "and he saw a little rock I had found on the street in Boston." Because the rock resembled the shape of a dog's head, Lerner had painted one there. Guston said, 'This is what you should do!'" Lerner asked, "'I should paint on rocks?' 'No,' replied Guston. 'This is from your gut.'" Lerner says he gradually moved from working in 2- to 3- dimensions by cutting up paintings he had made on masonite board and using the cut-outs in constructed pieces. Later he began sawing shapes out of plywood and creating bas-reliefs by laminating them together. Eventually, he added found objects to the mix, as well as tin or aluminum cans he snipped or otherwise manipulated.
What matters most is that Howard Lerner has clearly found his medium. And by focusing on "the good stuff" – the mystical, spiritual and temporal subjects closest to his heart, realized with the pieces of junk he lovingly hand-picks and resurrects — he has made that medium uniquely, sublimely, his own.
Lerner's work has been exhibited in New York galleries and museums, including Joan Whalen Fine Art and the Jewish Museum. He has also exhibited in Washington, D.C., San Francisco, CA, Philadelphia, PA, Atlanta, GA and the Butler Institute of American Art, Youngstown, OH. Lerner received A National Endowment for the Arts Fellowship in Painting and a Connecticut Commission on the Arts Individual Artists Grant. His work is included in corporate and private collections including Boeing Corporation and the Wellington Investment Group.
More work from the artist can be found at www.howardlernerart.com
Works:
1. Howard Lerner, Joshua: Angel, oil & collage on bd. 58Hx47W. inches, Heavenly Host Commands Joshua to take off his shoes as the ground that he stands on is Holy.
2. Howard Lerner, Fish Kadosh, oil on metal and wood, 66H x57W in. Man communes with LEVI-atan via Kadosh prayer.
3. Howard Lerner, Daniel's Vision Ship, oil and collage on board 80H x 41W inches In my piece this rocket-vision- ship carries the Archangel Michael who flashes divine energy thru his eyes to the "certain man" who relays the specific prophecy to the white bearded Daniel. Lions surround Daniel as we recall his most recognizable biblical story in the Lion's den.
4. Howard Lerner, Detail of Daniel's Vision Ship.