Rami Ozeri and the Jerusalem Biennale
26
Jan
2015
by Yehudis Barmatz
Rami Ozeri has a background in economics and philosophy. We can use people like him in the arts. He is a dreamer, a planner and a networker. He has the advantage of providing a stage for a growing scene of Jewish artists who otherwise would remain in shelters and behind closed doors. With his initiative, in 2013 the Jerusalem Biennale was born. When I mentioned the Jerusalem Biennale to my Tel Avivian Great Aunt, she was not sure she heard me correctly. She gave a short laugh for lack of better words. Perhaps from a Tel Aviv perspective, an event called a "biennale" in Jerusalem is cute. Upon taking a few steps backwards, one realizes how significant the Jerusalem Biennale is in the world of Jewish Art. A well-rounded essay written in the Erev Rav by Jewish art critic David Sperber in 2013 presents the fruitful outcome of tackling such an unanswerable topic as Jewish Art by the Jerusalem Biennale.
Unlike Christian Art, Jewish Art is not a strong symbol of mainstream art history. Even contemporary works incorporate Christian symbolism. An example are the controversial works of American photographer Serrano, one being the portrait called "Black Jesus," in the Israel Museum collection. Mother Mary is photographed with, as inferred by the title, a black Jesus. In contrast to Christian Art, it is common belief that Jewish Art did not exist until the revival of the Jewish state and the Zionistic era, because of the biblical commandment "though shall not make for thyself a graven image…" Exodus 20:4. Historian of religion, Erwin Goodenough, discovered otherwise. While investigating Jewish symbolism he found a rich Jewish history of artistic work on ritualistic artifacts and mosaics. Jewish art existed in adjacent to traditional Christian images. Today the contemporary Jewish art revival attempts to relate to these historical and biblical artworks within a contemporary cultural context. The Dura Europa Project, curated by Richard Mcbee and Joel Silverstein in Dec.-March 2010, displayed a panel of artists work responding to dofferent themes of the famous Jewish Dura Europas mural, in a contemporary and personal way. In the last Jerusalem Biennale, Oryan Gulstar uses the Biblical reference of Scape Goat in her piece "Man of His Times." In this image, she photographs herself splayed in the burned hills outside of the Israel Museum, expressing her personal experience within Israeli culture. Rami Ozeri envisions the Jerusalem Biennale as a display of works like these, which are monumental in the contemporary Jewish art setting. They are personal and cultural, interacting within the context of Jewish history and Jewish concepts.
Noguchi, born 1904, said, "I think it is only in art that it was ever possible for me to find any identity at all". Jewish Art in Jerusalem is an introspective search about Jewish identity. One must understand a little about Jewish Israeli art history to grasp the significance of the Jerusalem setting for the Biennale event. The original old Bezalel School was established with the goal of developing an Israeli identity, using new motifs like the Magen-David and Israeli landscapes. However, the diaspora influence was inescapable, and internationally Jewish symbols like the Menorah appeared more often than symbols of the new state. The School closed down during the First World War, and reopened in the 1930's by German immigrants, many from the Bauhaus school. There were continued attempts to keep art "Jewish" but in the nineties, Tel Aviv took center stage in the Israel art world, as another city keeping up with international trends.
Can Jewish art hold a candle to Berlin art, when Berlin culture is far from a Jew's core identity? Rami Ozeri, born into a Sephardic family and raised in Jerusalem asked himself this question while studying in Bezalel. With a background in economy and philosophy, he chose to work through Jewish philosophical subjects in his artworks. His works were received with disinterest and criticism. Instead of facing Berlin, his art faced Jerusalem. Rami dreamed to revive the Jerusalem art. "A German writes about Niche more successfully," he says, "because he has more access to his own culture." Alternatively, a Jewish writer "has more sensibility to Maimonides," because it is part of his fundamental knowledge.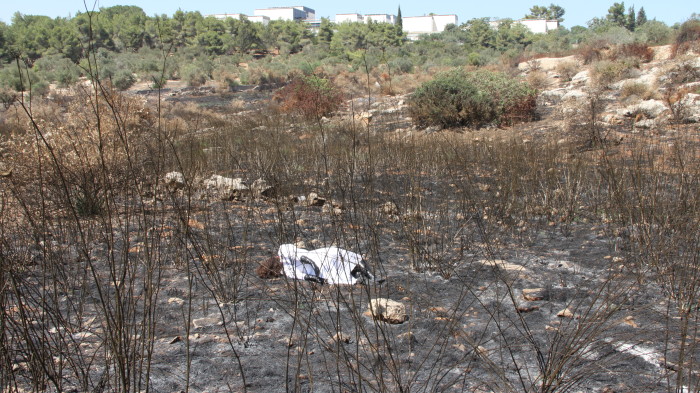 Rami Ozeri noticed a large group of Jewish people alienated from art because of the lack of Jewish content. Many Jewish people could not relate art to their own internal world. He wanted to revive the Jewish arts, to create a "meeting point" between the artist and his viewers. He dreamed of turning Jerusalem global by returning it to its roots. Rather than competing with the international art scene of Tel Aviv he wished to uplift Jerusalem through focusing on contemporary "Jewish" art from around the world. The more he talked about his idea, and reached out to people, the more he discovered a living organism of Jewish-identified creativity in the Jerusalem center. Creativity is incomplete without a platform and what was lacking was a stage. Digging the art out of underground shelters and into a rich variety of Jerusalem venues became Rami Ozeri's goal.
While writing economics for The Marker, a widely read online business magazine, Rami started collaborating with the Ahim Hassid complex in Emek Refaim, a quaint artistic area of Jerusalem. A stage was born and a dream formulated into reality. The first Jerusalem Biennale, based on the Venice Biennale model, took place in 2013. Encouraging the use of a wide variety of cultural mother tongues on the Jewish artistic landscapes, Rami Ozeri brought a number of curators from different populations of the Contemporary Jewish art world to contribute their own voice and represent artists of different Jewish backgrounds and communities. Rather than being "Israeli", its focus was "Jewish." It attempted to show the wide range of backgrounds and understandings of Jewish art. Included was a documentary by video artist Guy Briller. His video showed his process of bringing a "Holy Ark" used in synagogues (as a side note, the Holy Ark is the Bezalel school emblem) to a different cultural or municipality center in Jerusalem throughout 49 days of "Counting of the Omer" between Passover and Shavuot. This piece is an example of the Jewish content in the Bienniale, with its wide possible interpretations and cultural understandings.
The Jerusalem Biennale, spear headed by Rami Ozeri, is working full force for its next platform. It is putting out a Call for Curators and Artists around the world to submit project suggestions. This year, the goal is to push for at least a fifty percent international representation in Jerusalem, to widen the scope of understanding about Judaism and the arts. Jerusalem arts is in preparation for the gathering of the creative exiles to Jerusalem, after the high holidays of 2015. With this said, I suppose I should place a personal wish that "it find favor in the eyes of G-d and of man," and congratulate Rami Ozeri on his bold initiative.