By Elana Amminadav |
On Feburary 27th Art for Arzei opened in Teaneck, New Jersey, showcasing work drawing on strong biblical, religious, and Judaic influences. Artists featured include David Abecassis, Ksenija Lea Pecaric, Natalia Kadish, and Andrew Cotton, also acting as curator. The four artists come from different countries and are varied in their levels of Judaic practice, but all now live in Teaneck, NJ. The exhibition is open to the community and 50% of proceeds will be donated to charity.


Natalia Kadish, featured above, is a surrealist artist who showcased art based on mystical and Hassidic teachings. Her pieces resounded with overt biblical and Jewish influences, boasting titles like Tiffereth-balance, Rosh HaShanah, Splitting of the Sea, Creation, Miriam, and Souls Almighty as well as a collection of drawings based on the stories of the Golem of Prague. Natalia expressed her hopes that each piece of her art will take "the viewer on a personal mini-journey, bringing the viewer to an experience of the awakening, and revealing the love of life that is within this world, all in thanks to G-d, Master of Universe."
Kadish received a B.A. in Illustration from School of Visual Arts. Her art has been displayed at several concerts, galleries and shows including Irving Plaza in NYC. While incorporating the realism of her father, artist and illustrator Laszlo Kubinyi, she explores mystical concepts and understandings inspired by her visit to the Artist Colony in Tzfat, Israel.
The viewer can instantly see this inspiration in her work. She excitedly told viewers about the depth of each piece. In describing her piece Bereshit, Kadish explained, "On the first day of creation G-d said 'Let there be light'. As our Rabbis have postulated, this begs the question, being that the sun was created on the 4th day, what light is G-d speaking about? The Rabbi's explained that this was the light put aside for the tzadikim, our sages. We can glean a glimmer of this light hidden in the mysteries of the Torah." She also spoke about the perspective used in creating this piece. This drawing contains two forms of perspective: first, all the faces of the letters are pointing toward the center light. This perspective reflects life, and all physical reality, including people, comes from this one source. The  second perspective is on each individual letter extending back  into space. It is the Ein Sof, a term used by Hassidic rabbis to describe how nothing exists outside of G-dliness.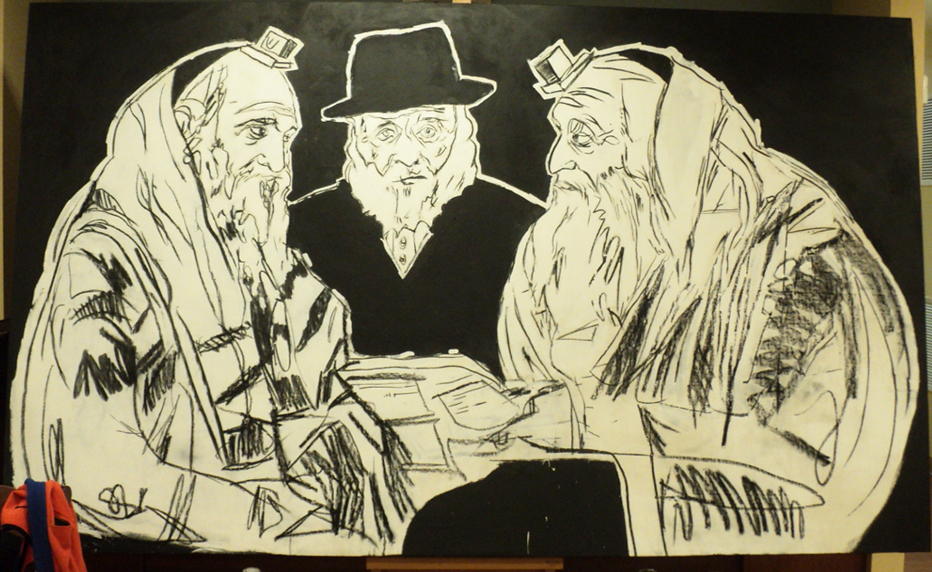 Andrew Cotton was born and raised in Northwest London. His formal art training included a foundation course in fine art painting at Central St. Martins Art School in London, and further fine art study at Brighton University. Beginning in his late teenage years, Andrew's work quickly captivated the attention of collectors and was shown at Earl's Court and various Jewish venues throughout London.
Since arriving in New York in 2004, Andrew's work has been exhibited in several group and individual exhibitions throughout New York and Milan. During this time, his work has evolved from contemporary graphic free-style painting to oxidized works combined with hand-paced serigraphs. His current work is focused on Judaic themes using hand drawn forms with charcoal and acrylic.
Cotton's paintings express very strong energy and his pieces were described by viewers as "funky and free." The sheer physical size of Cotton's pieces are larger than life.
Cotton also displayed dozens of prints which demonstrated his many unique influences and ranged in style and form from meditative and abstract to loud and "in your face," begging the viewer to examine his or her beliefs and perspectives.
David Abecassis intends his art to connect the viewer to one of their own memories. "This space is where the private and public may converge socially. Hopefully the emotions solicited from looking can repair some discord or fissure; so something broken may be repaired. I try to pull out common threads and weave them into a commentary on life's musings and tragedies."  His art is a culmination of images—some photographs, some paintings—similar to family photos taken on vacations or during day to day life—just a memory captured in the click of a camera lens.
Abecassis honed his artistic craft in Toronto, Canada, Florence, Italy, and New York. He has received several awards and grants for his art. As one artist stated, "David Abecassis's eyes are like a creative camera lens exposing the great memories in life."
Ksenija Lea Pecaric was born and raised in the former Yugoslavia, and lived in Krakow, Poland, before settling in Teaneck, New Jersey, where she is now raising her family. Her interaction with art started when she was very young in her mother's painting and ceramics studio. She studied various forms of art, including photography, Hebrew calligraphy, and received a Masters degree in Fine Art and Art Education from the Art Department at the Pedagogical University of Krakow. Since 1991 her graphics, paintings and photography have been exhibited in numerous collective and one-person exhibitions in Europe, the US, Canada, Australia, and South Africa. Her works have been printed in numerous publications of Pardes Publication in Krakow, Poland.
Pecaric specializes in line drawings of Judaic themes. She uses color for some pieces as well. The viewers can see the wood cut influence in her work and the depth she provides with lines are breathtaking. It's rare to see an artist with such an understanding of the creation of forms with tones. Pecaric is a driven artist as is clearly reflected in her art.
Overall this show was inspirational and displayed the unique diversity and depth of tradition that can be gleaned from rich Jewish heritage.
Elana Amminadav is the president and founder of the independent Jewish publishing company, Derusha Publishing LLC.