Noah Meets Katrina in "Watershed"
7
May
2012
Premiering at the LABA Festival 2012 in New York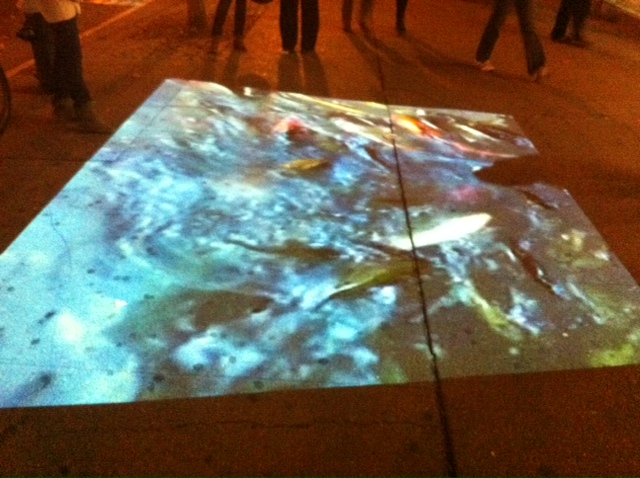 How difficult  is it to imagine a truly devastating catastrophe? Will calamity come from an instantaneous, even violent change in the landscape, or a slow transformation that could have been prevented? Will we suddenly realize the terrifying future  when the prevention is attainable or when it is too late?
Artist Anita Glesta considers these issues in her use of installations and large scale works to bring awareness of global and social issues by drawing parallels between historical events and specific trends today. One example is Gernika/Guernica  where she brings awareness to the bombing at Guernica in Spain and connects it to the events of 9/11 in the US by creating site specific installations that show the impact both events made on their cities. Her work is a visual discussion of memory, the question of identity, and connects past historical events to contemporary issues, by integrating physical space with large scale installations, and social consciousness.
Over the past few months Glesta has participated in the LABA Fellowship, a Torah learning program for a select group of artists that encourages the creation of new works of art that reflect on their study.
Glesta wasn't exactly familiar with biblical stories, at least not in the way she had learned through the program. Growing up with a yeshiva dropout father, she grew up in family where a Jewish identity meant more of a cultural identity. Through participating in the program Glesta explains that she could recognize these stories with fresh eyes, as well as appreciate such elements of her heritage through the eyes of the other fellows. What she discovered was that the tales are shockingly raw. She was surprised to find out that biblical history is  more random than she realized, and that the stories  do not possess the formulaic order and character archetypes that tales from other ancient civilizations seem to contain. Even more strange, Glesta found the texts to be conclusive in their narratives at times.
Inspired by universal myths largely rooted in the Old Testament, Glesta created a piece based on the story of Noah and the Great Flood, a traditional Jewish tale that has a place in  the World-origin mythologies of many other cultures. Her work Watershed: Fish on 14th is a projection of frenzied fish swimming in a phantom river that is showcased on the ground. Glesta's response to the epic flood in the Torah is a powerful reminder of Climate Change as she relates Watershed to the scare of flooding today. Though Glesta was originally commissioned by the United Nations and the video group Artport to do a work for the Copenhagen Summit in 2009, the real inspiration for the work Watershed came to Glesta when Hurricane Irene hit New York in 2011. Although the local officials were prepared for the hurricane, and the city suffered few ill effects, there was a lot of attention concentrated on fear of flooding in the low lying areas on Manhattan and the other boroughs. For Manhattan, a city already situated precariously at sea-level the troubles of Climate Change is a reality, but yet a concept so seemingly removed  from city dwellers often disconnected from nature. Glesta, found her own relationship to the Noah story through having worked with fish and water imagery in prior pieces, and  her own connection to nature grew  as she realized how much concern she had regarding the consequences of Climate Change.
The installations are designed for city streets, in cities that are vulnerable to flooding with rising ocean levels.
The installations come a long way from the common picture-book imagery of Noah's ark- quaint boat floating on an endless calm sea as Glesta updates the story  with her own shock of realism. The flooding waters full of its only residents, the fish, is right at your feet, creating a surrealistic landscape, making you feel the urgency of rising waters and the the flood for yourself. The work is also another historical and environmental reminder of the streams that used to run through urban areas that are now developed, so we never forget what was once there.
Glest reminds us that although it is easy to be jaded, detached from, and unconcerned with the natural world, "the world is confronting uncontrollable natural disasters over the last few years as a result. Earthquakes, floods, and water shortage have been increasing exponentially. And, though we exist in our own micro habitat seemingly afflicted only by our immediate local urban concerns, like the rest of our planet, NYC will also be confronting these physical changes more often."
What next? Glesta envisions Watershed on a grand scale next year, and would like to bring it to mythological proportions engaging with the busy New York City streets. She would also like to see it brought to other cities at risk for major flooding due to climate change. Now in the fight for environmental awareness we should also probably be asking ourselves: If flooding of biblical proportions is a real fear, what about the Jonah's leviathan?
Glesta is fundraising with the New York Foundation for the Arts. Find out more and donate to her cause here.
"Watershed: Fish on 14th" will be projected throughout the lobby of the 14th Street Y in Manhattan during the Blueprint Festival presented by the LABA Fellowship on May 17, and May 19th, 2012.