As Subject and Object: Contemporary Book Artists Explore Sacred Hebrew Texts
2
Jun
2013
Curated by Adrianne Rubin, MOBIA associate curator, and Professor Matthew Baigell.
Museum of Biblical Art
1865 Broadway at 61st Street, New York, NY 10023
June 14 – September 29, 2013
Featuring the work of approximately a dozen contemporary artists, this exhibition will highlight books and, in some cases, series of individual pages, inspired by the Hebrew Bible and other sacred Hebrew texts. The works on view will underscore the relevance of the Bible to present-day book artists and emphasize how these artists garner personally resonant artistic subject matter from the source materials.

Examples include literal cuttings of biblical texts, images of Adam and Eve, works based on the Kabbalah, and personal interpretations of biblical stories such as those of Jonah, Esther, and the Noachian Flood. Rather than merely illustrating the stories that emanate from the texts, each artist individually interrogates, challenges, and extends the texts.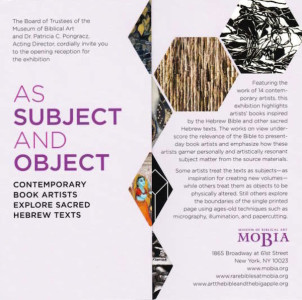 The contemporary book arts emphasize in microcosm the breadth and depth of artistic motivation drawn from the sources at hand, and they underscore MOBIA's motto: "One book, a world of art".
Participating (Jewish) Artists: Andi Arnovitz, Lynne Avadenka, Siona Benjamin, Jacob El-Hanani, Ellen Frank, Archie, Granot Ellen Holtzblatt, Robert Kirschbaum, Carole. P. Kunstadt, Mark Podwal, John Shorb, Robbin Ami Silverberg, Deborah Ugoretz, David Wander.