Artist Sukkah at City Wide Open Studios in New Haven
4
Sep
2014
An initiative of CT Artists' Beit Midrash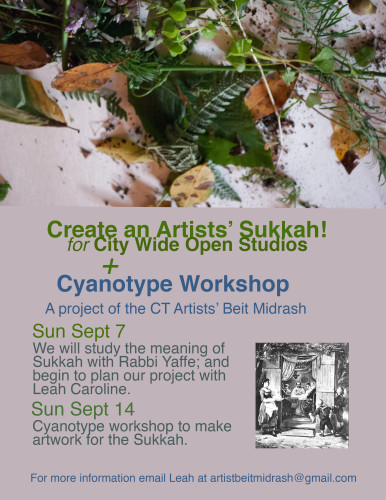 CT Artists' Beit Midrash will be building a Sukkah for the City Wide Open Studios (CWOS) festival in New Haven, Connecticut, which happens to fall out during Sukkot this year.
The festival theme is Transported/Illuminated. A very relevant topic for the holiday.
CT Artists' Beit Midrash is looking for artists, builders, and others to collaborate on their Sukkah for the open studios. The basic structure of the sukkah will be a wood frame, fabric walls, cyanotype artwork incorporated into the fabric, and a plant based roof.
The group will meet with Rabbi Yaffe of Chabad of the Shoreline to study texts related to the meaning of Sukkah; in particular how it helps us find comfort, light, and joy within transition, displacement, the temporary, etc.
A cyanotype workshop will be lead by artist Leah Caroline to make the artwork for the sukkah.
Dates
Sunday evening, September 7: Study the meaning of Sukkah and plan the project.
Sunday afternoon, September 14: Cyanotype workshop.
The Alternative Space weekend at the Goffe Street Armory (when the Sukkah will be displayed) is October 11 and 12.
Get Involved
Contact Leah at artistbeitmidrash at gmail dot com for more information.