By Beth Sarafraz for the Jewish Press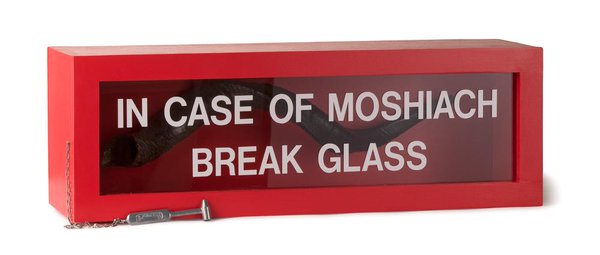 Ani ma'amin b'emuna shelema be'viat hamashiach, Vi'af al pi sheyit'mame'ha im kol zeh achakeh lo bechol yom sheyavo.

I believe with perfect faith in the coming of the Messiah; and even though he may delay, I will await him every day.
–12th Principle of Faith, from Rambam's Shloshah-Asar Ikkarim
One could wonder how the Rambam would react to the Anshie Kagan sculpture, "IN CASE OF MOSHIACH BREAK GLASS," scheduled to be auctioned December 16 at Kestenbaum & Company.
Would the author of Guide for the Perplexed (Moreh Nevuchim) be, himself, perplexed?
Anshie (who prefers to be known by his first name), is a young Boston-born Orthodox Jewish artist currently residing in Brooklyn, who attended Lakewood Cheder, Mesivta Pe'er Hatorah and Manhattan's Fashion Institute of Technology. He renders a unique take on a traditional principle of faith: a sculpture – a wooden box 36" x 12" x 12", painted red, with a classic metal hammer on a chain attached and a glass front with the lettering: IN CASE OF MOSHIACH BREAK GLASS. Behind the glass is a full-sized shofar, because, says Anshie, "Moshiach will use a shofar to announce his arrival."
The piece screams for attention, much like the old style fire alarm boxes we used to see on street corners.
It certainly got the attention of Daniel Kestenbaum, founder and president of Kestenbaum & Company, an upscale boutique auction house in Manhattan featuring fine Judaica, rare books, manuscripts, autographed letters, graphic art and ceremonial objects.
When asked what attracted him to this artist and this particular work of modern Judaica, Kestenbaum said:
"Anshie Kagan – living and worshipping within the religious world – has about him a most witty and original energy. No, his artworks are definitely not going to match the dining room drapes. It's edgy and it stops the viewer short — exactly what good art is supposed to do, and just what the thinking Jew should be doing — stopping short and reflecting about his life and his Judaism. For that reason, I support Anshie's work and seek to gain for it a wider audience."
Read the rest of this entry »